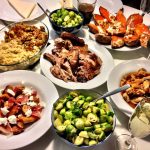 Join us on Sunday, January 17, 2016 for our board meeting immediately followed by a potluck dinner. The event will take place at the Connecticut Forest and Parks Association building, located at 16 Meriden Road, Middlefield, CT 06481. The CTRPCV board meeting will take place from 2 PM to 4 PM followed by a pot luck dinner from 4 PM to 5:30 PM. You are welcome to join for either the meeting, the potluck dinner, or both. The choice is yours.
All are invited to attend: RPCVs, current Peace Corps Volunteers home on vacation, Peace Corps invitees, Peace Corps applicants, anyone considering applying, etc. You are all more than welcome to attend and check us out!
Questions? Please leave us a message here on Facebook or email us at President@ctrpcv.org.