KENYAN ORPHANAGE PROJECT - $250: March 2005 – Charyn Atkin (Kenya, 1979-1983)
Last Fall Charyn returned to her Peace Corps site with cameras for Kenyan children orphaned by the AIDS virus. The group she traveled with had the idea that they would teach the children simple photography and then select special photos for an art exhibit that would serve as a fundraiser for the orphanage. Through the photography project they hoped to give the orphans a chance to enhance their self-esteem and give inspiration to their hopes and dreams. They also wanted the children to know that, in the absence of parents, they were valued and loved by others. The purpose of this exhibit was to increase the understanding of a very different culture, put a personal face on the tragedy of AIDS as it affects the children in Kenya, and to raise money to help the orphanage continue to provide a stable environment for the children. "They have no electricity, running water, books, and only a few recreational objects." Our plan is to provide them with a small kitchen, dining facility, and electricity."
MBO-I-KAMITI ORPHANAGE (NYERI, KENYA) - $1,000: October 2006 – Charyn Atkin (Kenya, 1979-1981)
The Catholic Diocese of Nyeri, Central Province, Kenya donated a large parcel of land that had been used for decades as a sisal plant that is used in the production of baskets, rugs & fishing nets. Several structures on the property will be converted into dormitories, eating halls, classrooms, and training centers. 
Jane Gighungu is a retired teacher who is working to identify children who are left without a parent due to the AIDS endemic, children with disabilities, and children with one parent where the need is significant. She has already created a small dorm for boys, but the greatest need in the region is to create a safe haven for girls because they are at greater risk of abuse and HIV infection. There is much work to be done at this project and the CTRPCV Community Service grant will provide seed money to begin the restoration of one of these buildings.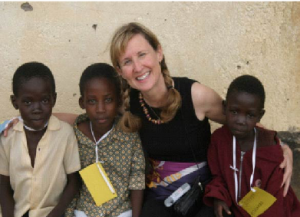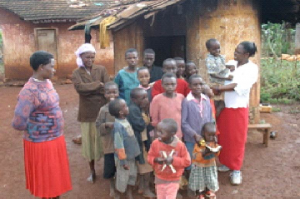 YOUNG HEROES PROGRAM OF NERCHA (SWAZILAND) - $1,000: August 2006 - Steve Kallaugher (Swaziland 2004-2005)
The Young Heroes program of the National Emergency Response Council on HIV/AIDS (NERCHA) of Swaziland. Imagine that you're 15 years old. Your father died five years ago. Two years ago, your mother got sick. You left school to help tend to her, and to care for your little brothers and sisters. You've tried to grow corn on your family land, but there's a drought and you haven't learned enough yet to be a good farmer. Now, your mother has died, too. In the midst of your grief and your fear for the future, questions keep you awake at night: What happens to us now? How will we live? AIDS has left 70,000 orphans in Swaziland; that number is projected to grow to 120,000 by 2010. Young Heroes' goal is to keep these children alive, healthy and together as a family unit on their homesteads and in their communities, where they have the greatest sense of security and support.
Through the Young Heroes website (http://youngheroes.org.sz), created by PCV Steve Kallaugher, they attempt to find sponsors who will make monthly donations to support specific orphan families with funds for food and clothing. Launched in February 2006, Young Heroes to date has found sponsors for over 200 of the 800 children now enrolled. 
MEKELE BLIND SCHOOL (ETHIOPIA) - $1,000: Chris Hanley/Rich Dann (Tonga, 1972-1976)
 In January, we received a CTRPCV Community Service Fund Grant application from Christina (Chris) Hanley, a Falls Village teacher and Norfolk resident, for security improvements at a school for the blind in the northern Ethiopian city of Mekele. The small boarding school of 86 blind children ages 6-15 was in need of a security wall. Thieves from the surrounding city would boldly enter the unprotected dorms and steal what little the children possessed. School supplies and personal effects were stolen and many of the girls were sexually assaulted when they used the crude toilet facility at night.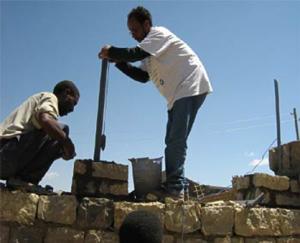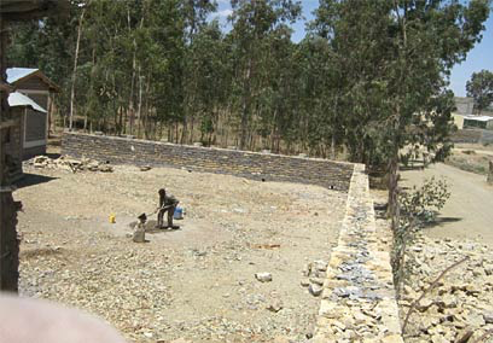 CTRPCV's Community Service Fund provided $1,000 toward building a 50 square meter security wall, gate, small gatehouse and trunks to protect the children's possessions. As of mid-March, there is great excitement at the school! The security wall, conceived by Mitiku Gabrehiwot and Chris six months ago, is finished! The children are now able to live without worry about being assaulted or having their sandals stolen. It's approximately 6.5 feet high, with an additional height of barbed wire along the top. In addition, 43 metal trunks were made, delivered, and are proving to be enormously helpful in securing the meager belongings of the children. These belongings consist of perhaps an extra outfit and a pair of sandals. Nonetheless, the trunks and the wall have sent a strong message to the children that they matter and are valued by others. Mitiku poetically shares the children's joy and appreciation by stating, "The children are smiling at you." In addition, Mitiku and a friend painted the 43 "lockers" a bright yellow, and then stenciled 'Eth. American Cooperation' on top of every one of them. 
** An additional $1,000 was awarded June 2009
BRIDGE IN MADAGASCAR -$1,000: May 2012 – Elizabeth Toomey (Madagascar, 2011-2013)
The bridge has also made the work significantly easier for the farmers because they no longer have to worry during the rainy season about the rising water level; they are able to work through it and use the bridge as a safe avenue home. The same goes for children going to school, people going to the market, etc. This bridge is a benefit to the local economy, education, health, and safety of all of the villagers in Sahanambo Valley. Something that used to be a big problem has turned into a non-issue, thanks to all of your help!
THILAMBOL SCHOOL GARDEN AND ENVIRONMENTAL EDUCATION SPACE (SENEGAL) - $979.83: September 2015, Alicia E. Gray (Senegal, 2014-?)
Welcome to Thilambol, a small Pulaar village in northern Senegal, in a region known as the Fouta. Located on semi-arid Sahelian grassland, south of the Senegal River, and currently facing the overwhelming effects of desertification. 
In June 2015, Thilambol Peace Corps Volunteer, Alicia Gray and Primary School Director, Hady Niang were invited to hold an environmental discussion at Ngui primary school (a near-by village). The mention of one word, "taarindi" (the environment as a whole in Puular) by Gray, brought attention to the lack of knowledge among the primary school children of the Fouta environment. After this informative dialogue with the Ngui children, Niang and Gray were inspired to begin an environmental after-school program at their primary school. 
The goal of this project was three-fold: increase access to sustainable agricultural technologies, increase food production, and improve access to nutritious foods within Thilambol. It serves multiple audiences, through the sensitization of the school children, community members, and local work partners in environmental and ecological practices. The program will include an after-school curriculum of bi-weekly hands-on environmental activities, and a monthly agricultural training (including Fouta ecosystem-related Agroforestry and sustainable gardening techniques). The new well will bring much needed water to this community.  
Intended to benefit both the students and the community, the objectives of the Thilambol Primary School Environmental Education Program (TPSEEP) are as follows, (1) to provide a multipurpose garden space for the primary school children to learn about the environment, (2) to practice sustainable gardening techniques, and (3) to increase access to nutritious food within the community. One half of the garden space is designated to the TPSEEP, while the remaining space is assigned to the women of Thilambol for a community garden space. 
Funded by Connecticut Returned Peace Corps Volunteers in September 2015, TPSEEP commenced with an environmental sensitization and climate change discussion among 55 Thilambol primary school children, local UNESCO climate change educator Aminata Sy, Gray, and Niang late October.
The goal of the first meeting was to introduce the program to the children, to discuss the changing environmental conditions of the Fouta, and to come up with some basic solutions to reduce the change at an individual level.           
Deforestation for housing development and cooking wood, uncontrolled overgrazing, intensified agriculture, coupled with the prolonged drought has resulted in severe sandstorms, soil erosion, and an increase in temperature over the past 30 years. 
Aimed at starting a conversation among the children and the elders in their homes about the visible environmental degradation, the initial meeting closed with this question for the children, "Go home and ask someone older than 60 years, what they have seen change in the environment in Fouta since they were as young as you are now?" 
The second meeting began by reviewing some of the answers the children came up with. The responses were quite interesting and are displayed in the picture below. 
LUNGA VILLAGE MATERNITY WARD PROJECT (ZAMBIA) - $1,000: February 2018 - Patience Mhlanga (Zambia 2017-19)
Imagine three women in labor in a one-room maternity ward designed to accommodate only one. The room is packed with visitors, luggage, and medical equipment. After giving birth, only one of them can sleep on a bed, while the other mothers must sleep with their newborns on the floor. A maternity ward with adequate space will enable women to deliver their newborns more safely, comfortably, and healthily. These improvements also encouraged women to give birth at the clinic instead of their homes, thus reducing maternal and child deaths.
CONSERVATION OF WILDLIFE IN MADAGASCAR - $2,000: March 2019 - Liz Toomey (Madagascar, 2011-2013)
Mahaliana, is a molecular biology lab and training center (focusing on wildlife health/conservation) that is being built in Antananarivo, Madagascar. The mission of Mahaliana is to "advance conservation science in Madagascar while leveling the playing field for Malagasy scientists". This social entrepreneurship was founded by RPCV Madagascar, Liz Toomey, and Dr. Fidisoa Rasambainarivo, a Malagasy wildlife veterinarian. The grant awarded by the CTRPCV Community Service Grant Fund to Mahaliana is also helping to organize trainings for Malagasy students to teach them the skills they need (which are not currently being taught in the university system) to conduct research & molecular biology analyses to benefit wildlife conservation.
MBALA CONSTRUCTION PROJECT (ZAMBIA) - $1,000: October 2019 - Corin Bolles (Zambia 2017-2019)
This grant assisted in the construction of a new block to house and protect 18-20 computers in a computer lab at the secondary school in Mbala. Having a block solely dedicated to computers at the secondary school will continue to greatly increase the technological skills of both the students and teachers.